Here's a free cutting file for Silhouette users to go with my Orca listing. https://www.dropbox.com/s/ti0obopf5esfysb/orcaCUT.studio3?dl=0
A few tips:
Make sure you printed the file called "EDITABLEOrcaSetforSil" and not "EDITABLEOrcaSet."
Load your sticker paper without a mat.
Then click on the cutting icon (second from the right in the upper corner) to pull up the cut settings.
Under edit select "Select All" (use Command A on a Mac).
Click "Cut" in the cutting menu. Then send to your Silhouette.
You can buy the matching artwork as an editable PDF in my Etsy shop. Please understand that beyond these tips, I do not promise to help you figure out out to use your cutting file. This freebie is intended as a courtesy for people who are already comfortable using the Silhouette to make print and cut stickers. There are plenty of videos and helpful websites and Facebook groups for Silhouette newbies. Unfortunately I do not have the time to walk people through the process.
I've mentioned my love for Pilot, Frixion erasable pens, highlighters and markers before. Those babies ACTUALLY erase, unlike the "erasable" pens of my childhood that were basically the trolls of the writing implement world. "We ERASE!" they'd promise. Then they'd laugh at you when your paper was wasted because it ended up covered in sort-of faded pen marks that were far too visible to write over. Screw those pens.
The Frixions have started making it into more and more brick and mortar stores, which is FANTASTIC. But the North American line has limited colors. So imagine my pleasure when I spotted a Paper Mate display at Staples featuring a competitor in the friction-erasing gel pen arena!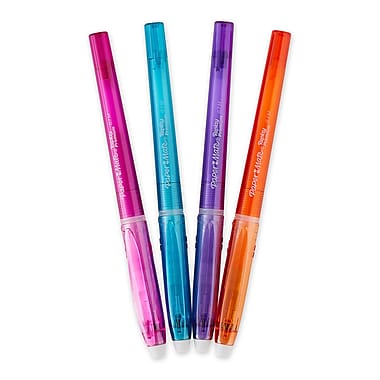 The colors were even slightly different than the Frixion pens I own so I snapped up a pack and tested them the very same day. Here's what I found… Continue reading →
I am SO pleased with my latest listings in the Etsy Shop. First I want to share these cute dental hygiene and teeth whitening tracking stickers:
But I'm even more excited and proud of my new EDITABLE stickers!
You can now add your own text to my blank flags and daily routine trackers BEFORE printing! No need to pay for a custom file, and no need to handwrite your selected text. I am excited to continue making editable downloads. I think they'll be very useful for planner addicts.
I am feeling so excited and grateful with the recent realization that I've broken the $300 mark in Etsy sales! Your love for my designs has me hopeful that in time, and with enough new designs listed regularly, I might be able to make a modest living doing something I love that also allows me to avoid the steep costs of childcare for my two Little Daleks.
To thank you for your support I'm sharing another free file for all you FlyBabies. It'll fit very nicely on the unlined pages of an Erin Condren notebook, but you can slap it on a lined page or anywhere you'd like in a Life Planner or notebook. And, of course, it matches all my other FlyLady freebies and products.
Be sure to subscribe to this blog and favorite my shop on Etsy because I am working on some very cool downloads that I think everyone is going to LOVE.
Mother's Day is a day to celebrate women who mother, be they step-moms, birth moms, adoptive moms, aunts, grandmothers, mothers-in-law, mentors, or any other woman who gives of herself to care for and raise a person or persons to be a happy, healthy, and good person.
So, sorry (not sorry) but I have to make a complaint.
Wishing dads, be they stay-at-home dads or single dads, a Happy Mother's Day is bullshit.
There is a trend in our society to treat men who actively parent like big, damn heroes while women who often bear the bulk of parenting burdens are…what? Just fulfilling their duty? This double standard is annoying enough every other day of the year but that on one of the days set aside to celebrate women we now have to make sure we don't forget to give props to the special-snowflake men (men who, by the way, HAVE THEIR OWN HOLIDAY) that are simply doing what women have been doing for centuries without legit recognition except on the one day a year that people stop to think about how much sacrifice and effort it takes to be a mother doesn't fly with me.
Please knock it off.
If there is a dad you admire tell him on Father's Day. Or, better yet, tell him on any old boring Wednesday because we don't have to wait for over-commercialized holidays to tell people we appreciate them. But don't wish him a Happy Mother's Day.