Good News Bad News
Good News?
Adam is doing really well in his classes.
Lucy has another tooth and it's soooooo cute.
I was able to help somebody out today just by taking pictures.
I've got a great giveaway going on.
I'm almost done with my Christmas shopping.
Adam's little brother confirmed that he WILL be visiting us for Christmas! Yay!
We had beautiful weather today.
Bad News?
I forgot to call my grandfather yesterday…on his birthday.
I wasted about half my weekend doing something frustrating and pointless.
I really, really miss my best friend.
There aren't a lot of entries in the giveaway, and a lot of people have entered incorrectly.
Want to participate in "Good News Bad News?" It's easy! Just write your own "Good News Bad News" post. Link back here in the post. You can even grab the button below! Leave you link in the McLinky widget and a comment. That's it!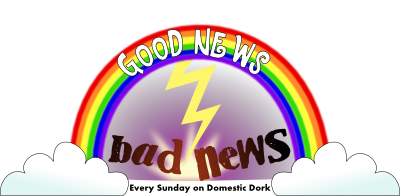 3 Responses to Good News Bad News