Head on over the brand-spanking-new TweeHaus blog! I'm giving away a free printable every day until Valentine's day! Plus there is a KILLER promo code available in the first post!
So…I was browsing the Target website because they've FINALLY decided to ship to Canada. And what did I discover in the toy department?
See for yourself:
OK, let's, for the sake of argument, accept the pinkwashing habits of toy manufacturers who, for whatever reason, mistakenly believe that little girls won't love playing with a toy if it's not PINK! and PURPLE! and PRETTY! Why does the "girl's" version cost twenty bucks more?!
It's the exact same toy. IT DOES ALL THE SAME THINGS. The only difference is the color plastic used to make it. What the hell?
You've heard how women's razors cost more than men's even though they're essentially identical? Well I guess Target decided to use the brand name of this scooter as inspiration to continue that obnoxious cultural trend.
Not cool, Target.
When I was about twelve, my parents came to me to discuss an idea. See, I was responsible for cleaning the litter box for our multiple cats. They wanted to be a foster home for kitties but, because they're good parents, ran it by me first since I'd be stuck scooping extra poop. I told them "If we foster a cat, you know I'm just going to want to keep it. So why don't we just adopt another cat?"
And that's how I ended up with El Camino (yes, I named my cat after a car named "The Horse" because THAT'S JUST WHO I AM, ALL RIGHT?)!
The only stipulation my parents placed on me before I chose a cat from the shelter was that it had to be female. My parents didn't want to have to worry about a male deciding to spray all over the house. My only criteria were that I, ideally, wanted either a calico, orange tabby, or grey tabby. On our first visit to the Human Society to visit kittens they had exactly two. An orange tabby and a calico. I later learned that almost all orange tabby's are male, and almost all calico cats are female. So, as you probably guessed, we brought home the calico.
She was tiny, and soft, and adorable. She was very young, and too small to even get on my bed at night. So for a while I slept on the floor with her. She'd try and nurse on my nose and ear lobes (ouch! kitten teeth are SHARP). She was funny and snuggly and LOYAL.
Every time I went home after moving away for university, she'd sleep with me again. And I don't just mean in my room, or on the bed. She'd crawl under the covers and snuggle as close as physically possible. When I was in Ohio while pregnant with Baby Dalek, she'd sleep on my belly. If she didn't hate leaving the house SO MUCH and if my mom wouldn't have murdered me for it (my mom loved Elly and Elly loved her too), I would have brought her back to Calgary on my last visit. And she was patient with my babies:
But, as always happens after enough time, Elly's body was no good anymore. They think it was cancer, but the cost just to confirm the diagnosis (nevermind treat it) was prohibitive. So her suffering was ended last week.
The very worst part is that I didn't get to say goodbye. As much as I would have bawled my eyes out, I would give anything to be able to hop in the TARDIS to hold her while she passed away. She was my feline baby. And the grief has hit me hard.
If you don't get why someone might mourn a pet so deeply, that's OK. Some people get attached to pets and some people just aren't that way. You do you.
I think I spent a total of two hours working on TweeHaus projects last week. The rest of the time I mostly spent in a depressed haze, and doing what I had to (a mom's job is never done, no matter how deep the sadness). I feel better this week. But I still miss her and it still hurts, bitterly, that I didn't get to say goodbye. Yet another downside to living thousands of miles away from my childhood hometown. I wasn't there when my Grandmother passed recently, but I had at least been able to say goodbye over the summer. It's amazing what a difference that makes.
I just wish I could make the whole world understand how beautiful and special Elly was. She never did any of the asshole moves so many other cats do. Her biggest flaw was a sensitive stomach (all chairs had to be pushed in if leaving the table during a meal or else she'd steal food and then vomit). And she was SO soft. Is it possible for a cat's fur to get softer with age? Because I swear, she felt even better to pet as an adult than she did as a floofy little kitten.
Elly was literally the best cat I've ever known. And I've known A LOT. At one point we had four cats living in our home at the same time. But Elly was simply the greatest. I've been looking forward to adopting cats again in the future. But I didn't want to bring home kittens at the same time I brought home a puppy (K-9 is HUGE now, by the way). But grief makes you a little crazy. There have been days where I've wanted to hop in the car and drive straight to the shelter to adopt a kitten. Of course, my rational brain kicks in first to remind me that a new cat is not Elly. NOBODY could replace her. Ever.
So yes, I will open my home to a kitty or two in the next year or two. The kids will be thrilled, especially Baby Dalek who is more a cat lover than dog lover (whereas Big Dalek loves basically anything with four legs and fur). I can only hope that whatever felines we might add to our family are half as loving as Elly was.
I think it's time to recognize that I am just never going to be a consistent blogger here ever again. Everytime I try to recommit to posting on a schedule, I don't. Clearly my priorities lie elsewhere. But just in case anybody out there actually wants to know what's been going on in my life, here's a run-down:
-The school year has started for Big Dalek/MiniDork. We walk to school with her friend/neighbour and she goes to an awesome afterschool program every day (also with the neighbour girl) and her mom and I take turns picking up both girls. It's going to make a HUGE difference in how much I can get done working from home.
-MicroDork is still too young for preschool so he's underfoot while I work on the Etsy stuff. He can be a poster boy for the "terrible two" stereotype sometimes, but he usually makes up for it with moments of epic adorableness or heart-melting kindness.
-My vintage trailer renovation is almost done. It's complete enough that we used it this summer to go to Ohio and Vancouver Island (where I fulfilled the dreams of my inner 8yo and saw wild orcas)! At this point only cosmetic changes and some bonus function additions are left.
-K-9 is friggin' huge. He is bigger than almost every other dog in our building and he's nowhere near done growing. Right now he seems to be going through some sort of dog adolescence and can be an asshole sometimes. But we're still training him and for his age, he is doing really well behaviour-wise. And he's still adorable and playful and wonderful to snuggle. He's got this amazing furry tail and butt. I call him Fluffy Butt often.
-I've been seeing someone who is really wonderful, and exactly the kind of personality I needed in my life. He's very private online so I won't be saying much else.
– I have all sorts of thoughts and feelings on my divorce stuff. But I'm just not comfortable talking about my ex online for everyone to see. It seems like a shitty thing to do. And while obviously I have my feelings and opinions there's always two sides to any story. Anybody who thinks their side is 100% impeachable is fooling themselves.
– My grandmother passed away last month. I'm doing ok, really. She was very adamant that she was ready. And I'm glad she's not hurting anymore. But it's sad for everybody who is here to miss her.
I've been making more friends here in Calgary (shout-out to the YYC Planner group and my fellow planner addicts)! Honestly, as a whole, my life is going pretty well right now. My depression is under control. My ADD treatment seems to work pretty damn well. My kids are a handful but cute just like everybody's kids are. I live in a pretty amazing place (just hours from some of the most beautiful places on the planet)! And I'm busy enough to not have time to worry too much about stuff that's not deserving of worry anyhow.
Didn't think I'd have another one up so soon! But it turns out a fan request led me to stop putting off something I wanted to make for myself anyhow:
Back-to-School flags and banners!
You can buy the printable artwork in my Etsy shop.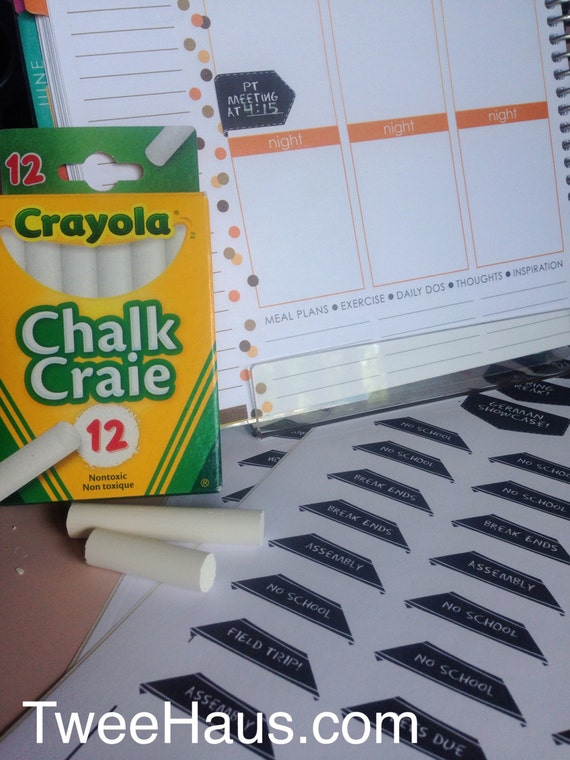 And the free Silhouette file is here: https://www.dropbox.com/s/uc66jdeltopq04d/SchoolFlagsCUT.studio3?dl=0
Please remember, as is the case with all my free cutting files:
I do not promise to help you figure out how to use your cutting file. This freebie is intended as a courtesy for people who are already comfortable using the Silhouette to make print and cut stickers. There are plenty of videos and helpful websites and Facebook groups for Silhouette newbies. Unfortunately I do not have the time to walk people through the process.